Date Published 20/07/2023
International perspectives on limited partnership structures
Mark Browne participated in a webinar event hosted by AIMA with Karl Egbert, Partner, Baker McKenzie, Anthony Travers, Senior Partner, Travers Thorp Alberga and Miriam Wall, Executive Director, Waystone.

The webinar explored the key characteristics of Limited Partnerships and the differences to be aware of when establishing them in the leading fund domiciles of the Cayman Islands, Delaware, Jersey, Ireland and Luxembourg.

A link to the recording of the webinar is available here
Contact us for any further information.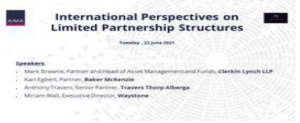 Topics focused on included:
• The requirements for General Partners
• Fund formation process and timeframe
• Permitted fund characteristics.
• Liability concerns