Date Published 20/07/2023
At a Webinar event hosted by MCO (MyComplianceOffice) Mark Browne spoke about the markets on Crypto Assets (MiCA) Regulation on behalf of Clerkin Lynch LLP. The Regulation is now enforced and is poised to revolutionize the European crypto asset landscape.

The legislation's primary objective is to balance safeguarding investors and promoting financial stability while nurturing innovation and boosting the appeal of the crypto asset sector. MiCA will fortify investor protection, prevent misuse of crypto assets, maintain financial stability, and safeguard against market abuse and manipulation.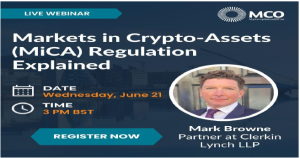 Other related resources
• Link to webinar https://mco.mycomplianceoffice.com/ondemand-webinar-mica-explained 
• MiCA goes live! https://www.clerkinlynch.com/wp-content/uploads/2023/06/MiCA-Goes-Live.pdf
• Update to VASP Register https://www.clerkinlynch.com/focus-on-cryptos-3/