Date Published 20/07/2023

Mark Browne participated in a panel discussion on the ELTIF in Dublin at a breakfast event hosted by SS&C Technologies with Ciaran Flynn, CFA from KPMG, Des Fullam of Carne Group and SS&C's Alagie Faye, MBA.
The panel discussed the key features, potential implications, benefits, and opportunities posed by the revised ELTIF 2.0 framework.
See the Clerkin Lynch LLP summary of the key features of this updated product below along with other references materials or feel free to contact us with related queries.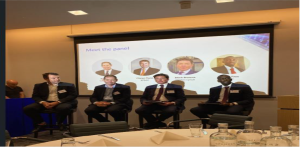 ELTIF Related Materials
• Features of the ELTIF 2.0 Regulation
• ELTIF II: Draft Regulatory Technical Standards Issued
• New Rules for ELTIFs Adopted